8 Reasons Your House Isn't Selling
Posted by Tameka Ross on Thursday, February 23, 2017 at 5:00 PM
By Tameka Ross / February 23, 2017
Comment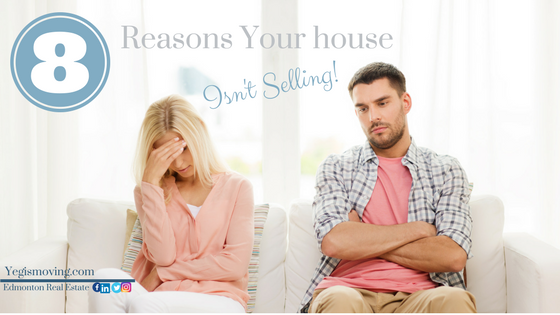 It's a buyer's market in the Edmonton and surrounding areas, and if your home isn't getting offers, something could very well be wrong. The good news is knowing there is an issue is the first step to resolving it. We've gone over what the top reasons could be and are providing you with the advice of how to correct each situation.
1. The house is priced too high
We know it's NOT what you want to hear. The truth is that if your home is over the days on market for your community, the market is rejecting your price. No amount of staging, beautiful photo's and detailed write up on the MLS® is going to bring you an offer if you're overpriced. Additionally concerning if your home is listed above market value, you are missing out on a whole group of prospective buyers.
Solution: Get your agent to go over the comparables of homes that have sold within your market and price it right the first time around. Nobody wants to buy the most expensive house on the block!
2. Your home need some TLC
So what!! You loved (worn out) your home, and it shows... Taking the time to critically look at your home and making a list of all the things that need to be freshened up helps your selling power. Analyze the properties that have successfully sold in your area and compare. Did they recently paint the interior, update the lighting, change the handles on the all the cabinet doors. We know it's a hard pill to swallow, shelling out money for a property you're hoping your moving away from, but trust us it will be for the best at the negotiation table.
Solution: Take a week to get all the work that needs repairs around the house completed before you go on the market. Some upgrade examples would be changing the faucet in the kitchen, upgrading your lighting and door handles. Remember painting goes a long way.
3. Your home is cluttered
Is the goal to move? Pack up your stuff! I'm serious. Get moving boxes and pack everything inside the house you don't need for next 3-4 months and store it in the garage or basement. Buyer will understand the goal is that your moving. What buyers can't see past 90% of the time is all your stuff. Buyer's need to see themselves living in your home NOT you living in your home.
Solution: Take the time to start packing. Start with a room a day and declutter, step back and declutter some more. Your house while still, your home is now a product that you're trying to sell.
4. The house smells bad... really bad
If we can smell it, we can't sell it. We're talking about cigarette smoke, mold and mildew and our personal favorite pet urine. If you know that you're not sensitive to smells, ask a friend for their honest opinion. There is nothing better than walking into a clean, fresh smelling home.
Solution: Don't try to mask it with your plugin freshener! You aren't fooling anyone. Instead take care of the set in smoke, mold and mildew and pet urine. There are also a lot of local companies that care of set in odors professionally.
5. The pictures are substandard
Squirrel! You have 2 seconds to grab a buyer attention and first impressions count. 90% of buyers start their search online and make a decision to come and view your house after clicking past the first couple of pictures. Buyers will move to the next listing if your home appears cluttered, unstaged and poorly lit.
Solution: Hire an agent that has the best marketing plan to allow your home to shine. Getting your home staged and professionally photographed (in our opinion) is worth it.
6. Your house is outdated
Have you just lived in your home for the last 40+ years and done nothing to update it and are now trying to sell it. Buyers are extremely overwhelmed when walking through your home. All they're seeing is dollar signs and a potential money pit once they start doing to renovations. A complete renovation can be a very daunting challenge for a buyer to overcome.
Solution: Update bigger ticket items for a buyer to see the value in your house. Examples would be windows, furnace, hot water tank and shingles.
7. You aren't letting the Sunshine in
Lucky for you this one is free (for the most part). I'm going to guess that more than 75% of sellers don't open their blinds and turn on all the lights before a showing. This is real estate selling 101. Let potential buyer see your house by letting the light shine through.
Solution: Dust off those blinds and let the sun come in. Evening showing: Replace any burned out light bulbs and turn on every ceiling light and lamp inside your home.
8. It's not you...it's... yeah it's you
We get it, your charming and mean no harm but you have to leave for your showings. Staying around even if you don't say a word and sit in the corner doesn't allow buyers to freely express what they are thinking about your place. What does happen instead they believe that they're inconveniencing you and walk through your home faster so we can leave.
Solution: When the buyer's agent shows up leave, grab a coffee and search for your next home online hopefully here on our site (Deidre told me to type in that last part.)