New Default Insurance Premiums
Posted by Tameka Ross on Thursday, February 23, 2017 at 11:15 PM
By Tameka Ross / February 23, 2017
Comment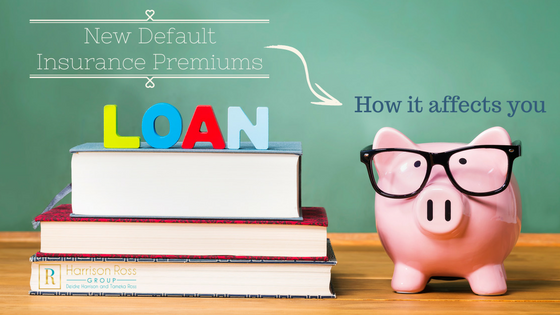 Kim Lewis from Scotia Bank has been kind enough to explain to our readers exactly what is means to them.
CMHC was the first of the three insurers to raise their premiums, with Genworth following the next week.
The primary driver for the increased premiums is the need for a higher capital for their portfolio of business, easily put, this is their safety net. If someone defaults and doesn't pay their mortgage, CMHC and Genworth step in to cover the mortgage to the Financial Institution, so if they don't have enough capital to do that, they are putting themselves at a huge risk. The number of expected losses has also risen in the last few year, not that any of us should be surprised.
Both CMHC and Genworth have programs to help people who for any circumstance are unable to pay their mortgage. They have stepped in when a client bought a house at a peak price and now will be selling for a loss, and they have also helped when clients up north have lost their jobs and can no longer afford payments. So if you ever have clients that need help, we can point them in the right direction of who to call to get all of their options out there.
Another change that has come about is the way they establish the amount of risk a borrower has. So if someone doesn't have a high credit score, you are deemed more of a risk and more likely to default on your mortgage. For example, the requirement for a 680 credit score is 170% higher than that for a 720 credit score. Over time, this may lead to the evolution of premium rates for credit score cohorts within LTV bands.
So in the future, It's going to be even more important to have a good credit score as it won't just affect how much you get approved for, but also how much the insurers will charge to insure you.
So that's they why of what has changed let's look at some calculations and see something a bit more tangible, how it will affect the actual amount a person pays.
Down payment between 5% and 9.99%
Loan Amount $150,000 $250,000 $350,000 $450,000 $550,000 $850,000
Increase to Monthly Mortgage Payment $2.82 $4.70 $6.59 $8.47 $10.35 $15.98
Based on a 5-year term @ 2.94% and a 25-year amortization
---
So looking at real time numbers you can see it won't affect your payment, and it also won't affect how much you get approved for.
These new premiums come into effect on March 17.
•CMHC's standard mortgage loan insurance premiums will be changing as follows:
Loan-to-Value Ratio
Standard Premium (Current) Standard Premium (Effective March 17, 2017)
Up to and including 65% 0.60% 0.60%
Up to and including 75% 0.75% 1.70%
Up to and including 80% 1.25% 2.40%
Up to and including 85% 1.80% 2.80%
Up to and including 90% 2.40% 3.10%
Up to and including 95% 3.60% 4.00%
I hope this helps to clarify some facts about the why's and the reality of how the change will impact your clients.
Kim Lewis, PFP | Home Financing Advisor, Edmonton
_____________________________________
Scotiabank | Home Financing Solutions
Transit# 11049
#20 615 St. Albert Road
St. Albert, AB
Canada T8N3L3
(587)930-2848
Scotiabank is a business name used by The Bank of Nova Scotia